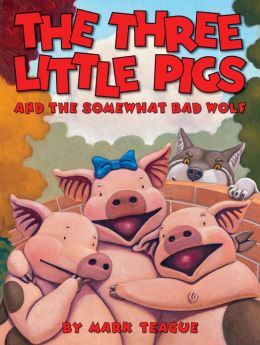 The Three Little Pigs and the Somewhat Bad Wolf
Mark Teague
Scholastic
5/1/2013
From:
publisher
Grade:
A
For:
kids
Synopsis:
Three pigs spend their money on different things: potato chips, sody-pop, and building supplies. It comes as no surprise that a wolf is able to blow down the first two pigs' houses. When the wolf can't blow down the third pig's brick house, everyone comes together and the fun begins. The first two pigs give him potato chips and sody-pop, and the third pig makes everyone a healthy meal. Since only one pig has a house left, the other two pigs and the wolf move in with her. The somewhat bad wolf is no longer hungry.
My thoughts:
When this first came in the mail I was ecstatic. Mark Teague is one of my favorites when it comes to children's books. He always creates an incredibly engaging book. This did not disappoint.
The pictures have something new to show you every time you look. They are beautiful and fun to look at. This is so important in a children's book. This gives them something to look at as we read and makes for fun stories created by the picture "readers".
The story was somewhat typical
3 Little Pigs
but there was a fun twist. There was also originality added, like when the pigs really want sody-pop.
I recommend this to all parents of young children and elementary school librarians.