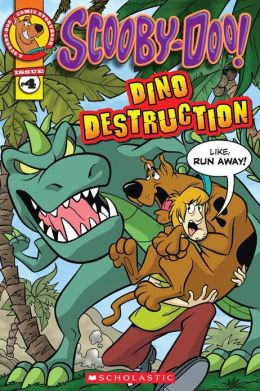 Scooby-Doo: Dino Destruction
Lee Howard
Scholastic
5/1/2013
From:
Publisher
For:
Kids
Grade:
A
Synopsis:
Zoinks! It's monster mania at the museum when a 3-D dinosaur projection comes to life. Scooby-Doo, we need you!
The Scooby gang is taking a vacation from mystery in sunny Costa Rica. Until they visit the Natural History Museum . . . and a dinosaur projection springs to life! Now it's up to Fred, Velma, Daphne, Shaggy, and Scooby-Doo to dig for clues. Can they discover who's behind all the dino destruction?
Review:
I loved Scooby-Doo when I was a kid so when I found this in a package from one of my contacts I was more excited than most adult women would be. It was incredibly cute, just how I remembered it. The story was fast paced so children will be able to sit through this one. It is also written at a level that new readers could handle.
I recommend this to fans of scooby-doo, mothers of young boys and all elementary school teachers and librarians.