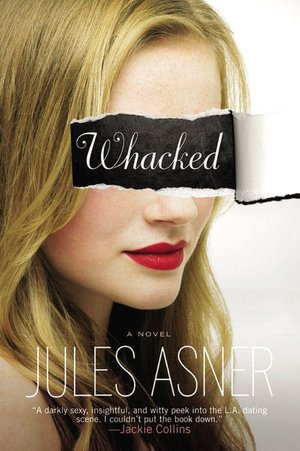 Whacked
Jules Asner
Weinstein Books
6/9/2009
Synopsis:
Life promises to be perfect for Dani Hale. She has an almost-perfect boyfriend named Dave and a dream job writing for the TV crime series Flesh and Bone that allows her to indulge her macabre forensic passions. But something isn't quite right with her relationship, and Dani-a wily and inventive snoop-learns that Dave's real creative talents are (1) lying and (2) cheating on her. Soon she is plunged into the world of Los Angeles singledom, enduring a battalion of bad dates with men whose peccadilloes would drive a lesser woman to kill. At her wit's end, Dani is driven to a dramatic extreme that is as shocking as it is sensible in the girl-eat-girl world of Hollywood.
My thoughts:
 I bought this book for pennies when Borders was going out of business. It had sat in my to read bookshelf ever since. Finally my mom decided to borrow it and after what she said I had to read it. My mom was very right. This book was crazy.
I have decided to go back to an old system I had for reviewing. I feel like it made my reviews much better and made sure I hit every target. Here goes:
Characters 15/20
Plot 15/20
Setting 20/20
Cover 20/20
Ending 15/20
Total: 85% B
The characters in this book were well written. The reason I didn't give this a 20/20 is how crazy the main character is. Some points were so
unbelievable
for the type of book this was that I was left feeling unsatisfied. The setting was fun. How can Hollywood be anything but? The setting was described very well by the author, to build on what we already know.
The plot of this book was unique. I had never read a book about a writer in Hollywood. It was fun to see all the ins and outs of the business while enjoying a creative story. I do feel that there were a few holes, especially at the end. I did not like how the last few pages kept skipping huge time periods. As the end approached I already knew what was going to happen. I fell that the author hinted a little too much for the "surprise" to be shocking.
The cover was beautiful. The girl was very pretty and I love her lipstick. I think that is what made me pick it up in the first place. Even though the girl on the cover looks pretty and young, keep in mind that this is an
adult
book.