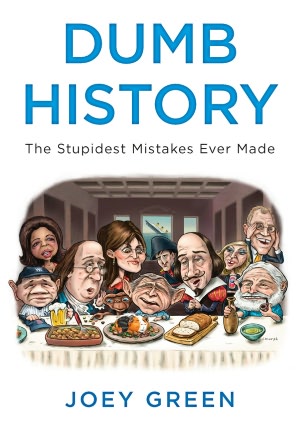 Dumb History
Joey Green
Penguin
5/29/2012
Synopsis:
A book that proves idiocy is as old as time
Think civilization has deteriorated and that people these days are dumber than ever? Dumb History proves that we didn't invent stupidity in the 21st century. You'll find facts from throughout the ages about everyone from Cleopatra and Napoleon to Elvis Presley and even NASA scientists. Consider this:
In 820 C.E., Emperor Hsien Tsung's herbalist presented him with an anti-aging elixir—it killed him In 1849, Brooklyn inventor Walter Hunt invented and patented the safety pin and then sold all the rights to his invention for $400. By the time he died penniless, the United States was producing an estimated five billion safety pins annually In 1967, voters in the town of Picoaza, Ecuador, elected a brand of foot powder as their new mayor It's a wonder we've survived as long as we have.
My thoughts:
I was more than excited to review this book for Penguin. This is the kind of book I live for. I love random, usually useless factoids. This book provided me with plenty of those. This is a quick read that you wont want to end. The facts had me laughing with stories from years ago to stories about one of my former employers. I was amused throughout.
The facts were written in an easy to read way. They were not dry at all, which you sometimes find with books like this. The flow was very easy, making for a great read. I recommend this book for everyone 14+ and would give it an A.