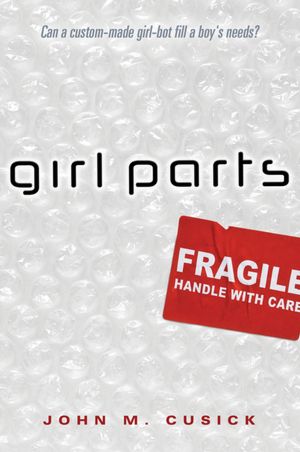 Girl Parts
John M. Cusick
Candlewick
2/14/2012
Synopsis:
 David and Charlie are opposites. David has a million friends, online and off. Charlie is a soulful outsider, off the grid completely. But neither feels close to anybody. When David's parents present him with a hot Companion bot designed to encourage healthy bonds and treat his "dissociative disorder," he can't get enough of luscious redheaded Rose — and he can't get it soon. Companions come with strict intimacy protocols, and whenever he tries anything, David gets an electric shock. Parted from the boy she was built to love, Rose turns to Charlie, who finds he can open up, knowing Rose isn't real. With Charlie's help, the ideal "companion" is about to become her own best friend. In a stunning and hilarious debut, John Cusick takes rollicking aim at internet culture and our craving for meaningful connection in an uberconnected world.
My thoughts:
I was suprised by how much I enjoyed this book. I went into expecting a fun, light read and came out overjoyed. It was hillarious at parts and thoughful at others. The characters, David and Charlie, were as different as night and day. They were both easy to connect with and really made the story as superb as it was.
I found the story to be unique. I had never read anything like it. The flow of it was exquisite. I loved how it moved smoothly between characters. It is often hard to have two "main" characters. Mr. Cusick did a fantastic job. I applaud him for that. Every transition was meaningful and well written.
I recommend this book to teens 13+. I would give it an A.