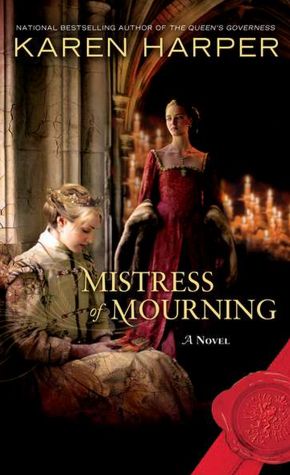 Mistress of Mourning
Karen Harper
Penguin
7/3/2012
Synopsis:
London, 1501. In a time of political unrest, Varina Westcott, a young widow and candle maker for court and church, agrees to perform a clandestine service for Queen Elizabeth of York, wife of Henry VII--carve wax figures of four dead children, two of her offspring lost in infancy and her two brothers, the Princes of the Tower, whose mysterious disappearance years ago has never been solved. Having lost a child herself, Varina feels a sympathetic bond with the queen. And as she works under the watchful eye of handsome Nicholas Sutton, an ambitious assistant to the royals, she develops feelings of quite a different nature...
Then news comes from Wales of the unexpected death of newly married Prince Arthur, the queen's eldest child and heir to the throne. Deeply grieving, Elizabeth suspects that Arthur did not die of a sudden illness, as reported, but was actually murdered by her husband's enemies. This time her task for Varina and Nicholas is of vital importance--travel into the Welsh wilderness to investigate the prince's death. But as the couple unearths one unsettling clue after another, they begin to fear that the conspiracy they're confronting is far more ambitious and treacherous than even the queen imagined. And it aims to utterly destroy the Tudor dynasty.
My Thoughts:
Historical fiction is not what I usually read but as I have mentioned in recent posts, I have been working to expand my reading horizons. This book was artfully written and contained superb word choice. The language was that of an intellectual, which is what I have come to expect from historical fiction. If it had not been so, I would have been disappointed. The story had a great flow. I have noticed this genre can sometimes drag on, which is what has kept me from reading many books in the past. This book did not do that at all.
The characters all seemed real and true to the time period. It transferred me to a different time and place. It is rare when a book can totally take you away.That was my favorite aspect of this book. I was in a whole new time and place, completely.
I recommend this book to adult women. It was a worthwhile read and a book everyone should add to their collection.