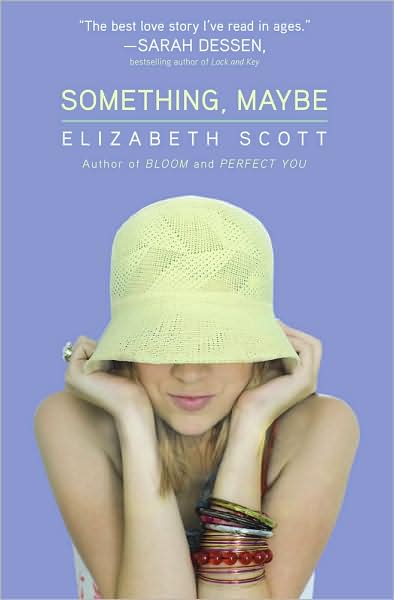 Title: Something, Maybe
Author: Elizabeth Scott
Publisher: Simon Pulse
Price: $16.99 USD
Release: March 24th 2009
FTC: This is my own purchased book. I did not receive it from the publisher or author.

Characters 20/20
Plot 20/20
Setting 20/20
Cover 15/20
Ending 20/20
Total grade: 95% A

Sexual content: 10/20
Violence: 0/20
Drugs: 0/20
Underage drinking: 5/20
Swearing: 5/20
Total rating: 13+


Summary: (Amazon)
In this often astute, occasionally awkward take on family and unwanted fame, Hannah Jackson James tries not to live in her parents' dubious shadow. Her father is an aging reality TV star with a Hugh Hefner-esque castle full of girlfriends. Her mother, a minor actress and former girlfriend of Jackson's, now makes her money hosting a webcam show in skimpy underwear. When Hannah moved with her mom to a small town at age 12, she tried her hardest to blend in. Five years later, her concerns include staying unnoticed at school, making sure her mom can pay the bills, and deciding how to approach the object of her affection, a fellow student named Josh who works next to Hannah at the drive-through call center for a fast-food chain. Then her father calls for the first time in five years to invite her to visit him in New York. Hannah is torn between her desire for his love and her suspicion that the gesture is nothing more than a cynical ratings ploy. Scott's portrayal of Hannah's family situation is subtle and convincing. Readers will understand without being told that Hannah and her mother love one another, but that Hannah is as much a parent as a child. Her relationships with her peers are less believable. Her interest in Josh never quite seems genuine, and readers realize long before she does that Finn, a kind but irreverent goofball, is a better match.

My Thoughts:
This book was awesome! I have never once not been impressed with Elizabeth Scott. I saw the obvious play on Hugh of Playboy fame as hilarious. I was cracking up every time he was in the picture.

Hannah was a sweetie and I really liked her. I felt that I was really able to have a connection with her, which is always nice. She was the typical teen girl, liking what isn't good for her.

Finn was adorable. I wanted him to be my boyfriend. Josh was exactly what I saw him to be from the start. This is defiantly a worthwhile read.