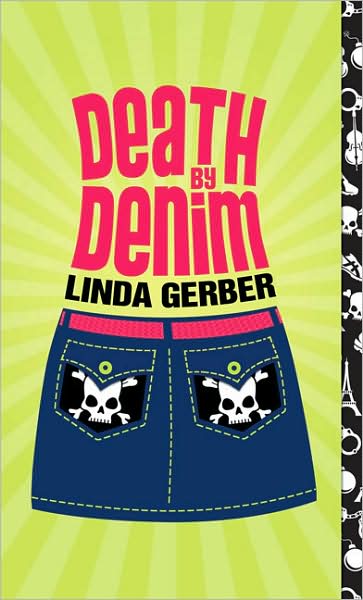 Title: Death by Denim
Author: Linda Gerber
Publisher: Sleuth Speak
Price: $7.99 USD
Release: May 14th 2009
FTC: I received this book from the author with the understanding that I would provide an honest review for no compensation.

Characters 20/20
Plot 20/20
Setting 18/20
Cover 15/20
Ending 18/20
Total grade: 91% A

Sexual content: 0/20
Violence: 12/20
Drugs: 0/20
Underage drinking: 0/20
Swearing: 2/20
Total rating: 12+ in age appropriate. 13+ in connections


Summary: (Amazon)
Aphra Connolly is being chased by some very dangerous people. She knows her survival depends upon staying far away from love interest Seth, and listening to her mom's lectures on the finer points of anonymity and survival. But how is a girl supposed to live under the radar and not think about her boyfriend when she's in Paris—the most romantic city in the world? When her mom's contact in Paris is found floating in the Seine with a deadly message stuffed in his mouth, Aphra realizes that she will never be able to stop running unless she confronts the situation head-on. Sneaking away from her mom, Aphra tracks down the criminal mastermind in Italy, only to unwittingly reveal Seth's location. And her mistake has just put them both in mortal danger. . .

My Thoughts:
I thought this book was a fairly good way to end this series. I loved how the story ended but then there was the epilogue which leaves room for a spin-off!

I found "Seth" just a loveable in this installment. I wish he was my boyfriend! Wait I lie… My boyfriend is already amazing! I wouldn't mind having Seth though if I didn't have my love! Aphra and him are perfection together!

I would recommend this book to fans of teen mystery books!