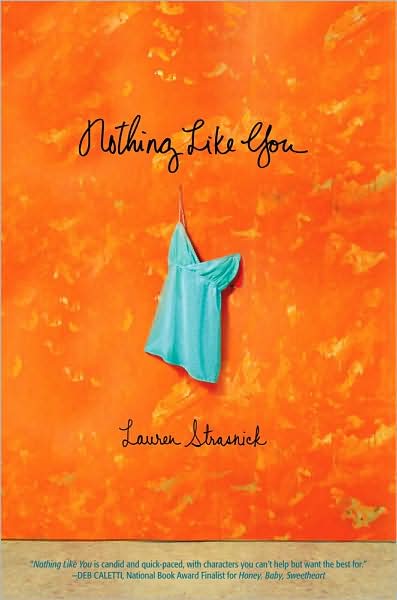 Title: Nothing Like You
Author: Lauren Strasnick
Publisher: Simon Pulse
Price: $16.99 USD HB
Release: 10/20/2009
FTC: I received this book from the publisher with the understanding that I would provide an honest review with no compensation.

Grade: A
Rating: 15+
Summary: (Amazon)
When Holly loses her virginity to Paul, a guy she barely knows, she assumes their encounter is a one-night stand. After all, Paul is too popular to even be speaking to Holly...and he happens to have a long-term girlfriend, Saskia. But ever since Holly's mom died six months ago, Holly has been numb to the world, and she's getting desperate to feel something, anything--so when Paul keeps pursuing her, Holly relents. Paul's kisses are a welcome diversion...and it's nice to feel like the kind of girl that a guy like Paul would choose.

But things aren't so simple with Saskia around. Paul's real girlfriend is willowy and perfect... and nothing like Holly. To make matters worse, she and Holly are becoming friends. Suddenly the consequences of Holly's choices are all too real, and Holly stands to lose more than she ever realized she had.
My thoughts:
The cover is gorgeous for this book! There is just something about it that really draws me in and makes me want more.
This novel starts out with Holly's first time. I thought that was a great place to start and found the aftermath of the virginity lost very unique. Girls who don't want a relationship with the person who takes their virginity are pretty rare. The loss of a v-card is pretty common in teen literature but this was very different than any I had seen before.
Lauren must have a very large vocabulary because her word choice was awesome! I love finding new words for common ones and this novel defiantly helped me out there! It was an intelligibly written novel. Lauren also showed a bold voice through her main character, Holly. The characterization was above any I have seen in books lately. You were able to develop a real connection to the characters and storyline.
This was another story where I was able to connect to the love triangle. I'm starting to wonder if someone's trying to tell me something, haha. I think because I have experienced this in my own life that Holly was very dear to me.
There was quite a bit of swearing in this novel as well as sexual slang. It was not more then I hear in high school but probably too much for most middle school aged readers. I for one would not hand it to my 12 year old sister to read. The lesson I found in this book was that you need to love yourself. Everyone in the whole world can love you but unless you love yourself you cant truly be happy.
Quotes:

"It had cliffs and crashing waves and seemed like the appropriate place to do something utterly unoriginal, like lose my virginity in the backseat of some guys dinged-up, bright red BMW." –Holly (thought)
"I couldn't imagine anyone really, really liking me." –Holly (Thought)
"Such a small price to pay in exchange for my pride." –Holly (Thought)
A second opinion:
Jill gave this novel an A and a lovely review. See her thoughts:
http://readingisbliss.blogspot.com/2009/10/nothing-like-you-review.html
Lexi gave this novel 5 of 5 stars. See her review:
http://anotherpageisused.blogspot.com/2009/07/nothing-like-you-by-lauren-strasnick.html