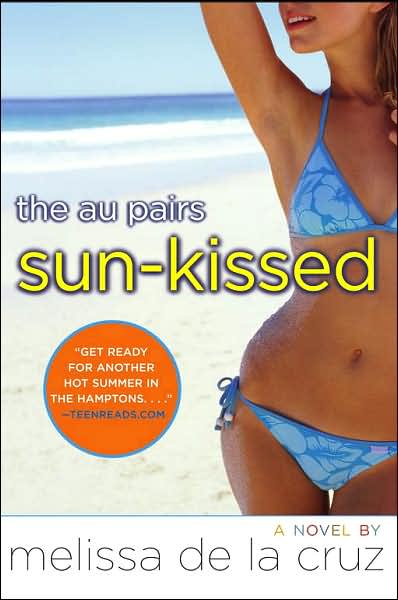 Sun-Kissed
(Au Pairs #3)
Melissa de la Cruz
Summary:
Third time's the charm as Mara, Eliza, and Jacqui head back to the Hamptons. This summer the au pairs are doing it right: in style, in step, and "in" everywhere.
Mara has the VIP hookup at all the new clubs -- not to mention sweet digs living with bf Ryan on his parents' yacht. Eliza's nights are steaming too, since she and Jeremy are in total relationship bliss. Too bad she's spending her days at a fashion internship where the hot new designer goes all Devil Wears Prada on her. Jacqui is newly single, and on the prowl, with three boy millionaires next door competing for her affections.
The girls seem to have the whole package this summer. But looks -- as all good Hamptons girls know -- can be very deceiving....
My thoughts:
I have adored this series since I found book number one on a random search. This one was not a disappointment at all. It took me back into the world of these alluring girls. This time we saw that each girl had more to give than being an au pair. They had their own struggles, not everything was handed on a silver platter. Eliza must go against the grain which is unusual for trust fund babies. Mara is discovering if her passion will get in the way of her relationships. Jacqui is trying to figure out who she is apart from the other girls.
The lessons of these girls are hidden in this extraordinary work of fiction. I would give in A without a moments hesitation. I would also give it a rating of 15+. There is sexual content, drugs and underage drinking to watch out for.