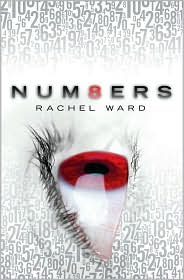 Numbers
Rachel Ward
Scholastic
$9.99
February 2011
FTC:
I received this book from the publisher with the understanding that I would provide an honest review for no compensation.
Characters 20/20
Plot 20/20
Setting 20/20
Cover 15/20
Ending 20/20
Total grade: 95% A
Sexual content: moderate
Violence: heavy
Drugs: n/a
Underage drinking: mild
Swearing: moderate
Total rating: 15+
Summary:
Ever since she was child, Jem has kept a secret: Whenever she meets someone new, no matter who, as soon as she looks into their eyes, a number pops into her head. That number is a date: the date they will die. Burdened with such awful awareness, Jem avoids relationships. Until she meets Spider, another outsider, and takes a chance. The two plan a trip to the city. But while waiting to ride the Eye ferris wheel, Jem is terrified to see that all the other tourists in line flash the same number. Today's number. Today's date. Terrorists are going to attack London. Jem's world is about to explode!
My Thoughts:
I had been putting off reading this book forever. It did not sound like my kind of book at all. After I finished it I was amazed by how good it was. I stayed up way too late reading and couldn't put it down. The characters were fun to read about even though some of their storyline was predictable. The end was super great! I was very excited to see what had come from the developing storyline.
I only had two problems with the book. I did not like the cover. It could have been much better. Also the characters sometimes talked normal and others talked pretty ghetto. That was strange to me.
All in all I recommend this book to everyone! It was a book that even the biggest chic lit nerd could enjoy!