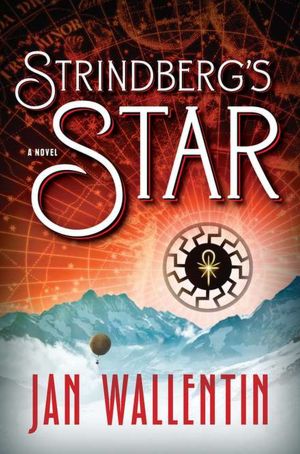 Strindberg's Star
Jan Wallentin
Rachel Willson-Broyles (Translator)
Penguin
5/24/2012
Synopsis: 
The Arctic, 1897: Nils Strindberg crashes his hydrogen balloon during the mysterious Andrée Expedition to the North Pole.
Germany, 1942: Gruesome and inexplicable experiments are performed on concentration camp prisoners.
Sweden, present-day: Cave diver Erik Hall finds a dead body wearing an ancient ankh, buried deep in an abandoned mine. Religious symbol expert Don Titelman seeks out Erik to study the ankh—but finds Erik dead. Don is the prime suspect, and soon he's being chased across Europe to escape a secret society that will do anything to get their hands on the ankh. . . .
In this international bestseller, each of these fascinating strands weaves together to create a mind-blowing cross-genre thriller that includes arctic explorers, a secret railroad network, Norse mythology, Nazis, and ancient symbols—and a shocking secret that's been hidden for centuries.
My thoughts:
This is not a book I would normally pick out on my own. For starters it didn't start out here. It had to be translated. I usually avoid books like that. Another reason I would usually avoid it is the history. The one kind of history I love to read about though is Nazi and World War 2 stuff. The mere mention of that is what had me agreeing to review the book. The portions discussing this turned out to be my favorite parts as expected.
The writing in this book started out slower than I usually like but as the story moved on the writing got better. I found myself intrigued and wanting to read more and more. The word choice was impeccable. My only gripe would be relationships with characters. I like a book where I can create a relationship with characters in the book. This book took me a while to create that connection. That is not a huge deal though, so it was still a wonderful read.
This is an
adult
book. I would give it a
B+
or
A-.