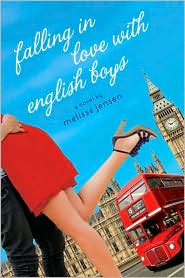 Falling in Love with English Boys



What?
Sixteen-year-old Catherine Vernon has been stranded in London for the summer—no friends, no ex-boyfriend Adam the Scum (good riddance!), and absolutely nothing to do but blog about her misery to her friends back home. Desperate for something—anything—to do in London while her (s)mother's off researching boring historical things, Cat starts reading the 1815 diary of Katherine Percival her mom gives her—and finds the similarities between their lives to be oddly close. But where Katherine has the whirls of the society, the parties and the gossip over who is engaged to who, Cat's only got some really excellent English chocolate. Then she meets William Percival—the uber-hot descendant of Katherine—and things start looking up . . .
Why?
EUROPE!!!!!!
When?
December 23rd 2010!!!