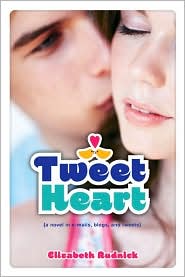 Tweet Heart
Elizabeth Rudnick
Hyperion
$7.99
June 2010
FTC:
I received this from the publisher with the understanding that I would provide an honest review for no compensation.
Characters 15/20
Plot 15/20
Setting 15/20
Cover 20/20
Ending 20/20
Total grade: 85% B
Total rating: 13+
Summary:
Claire is a #hopelessromantic. Lottie is determined to set up her BFF with Mr. Perfect. Will wants his #secretcrush to finally notice him. Bennett is a man with a plan.
Claire can't believe it when her dream guy starts following her on Twitter. She never thought he noticed her, and suddenly he seems to understand her better than almost anyone.
But the Twitterverse can be a confusing place, especially when friends act differently online than they do in person. Things get even more complicated when Claire realizes she's falling for someone else, the last person she ever would have expected….
My Thoughts:
I was a bad, bad book reviewer and took way to much personal time lately. I am working very hard to get back into the swing of things. So I read this book over a month ago and have just now wrote this review. Whoops.
I thought this was a fairly good book. As you would assume just from the synopsis it is predictable. We all know what will have through the whole ride of the book. That took away a bit but did not make it a bad book. I also felt we did not get to know our characters enough with the way it was written. We knew who they were with certain people but not as an individual.
It was cute, fun and quirky. No meaningful substance can be found but you will enjoy yourself. I recommend this to younger romance fans. *Cough-cough* cousin Kaylee... :)