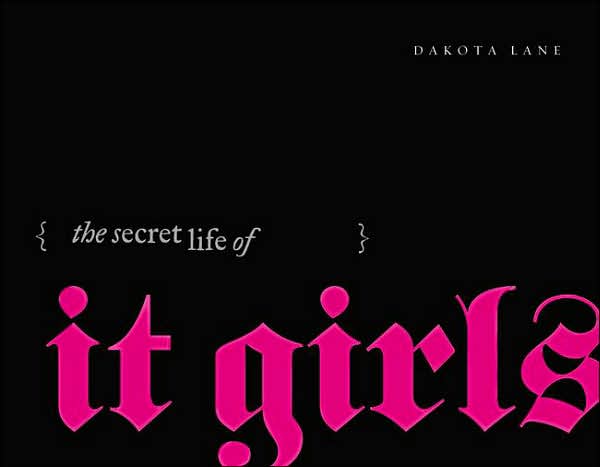 Secret Life of It Girls
Dakota Lane
Simon and Schuster
June 2007
FTC:
This is a library book. I am not being compensated in any manner for my review
Characters 10/20
Plot 10/20
Setting 10/20
Cover 10/20
Ending 10/20
Total grade: 50% F
Sexual content: moderate
Violence: mild
Drugs: mild
Underage drinking: mild
Swearing: heavy
Total rating: 15+
Summary:
It girl n 1. The girl that you want to be. She gets the guys AND the girls because she has something beyond money, clothes, and attitude. She's got something you either have or you don't have -- and YOU DON'T HAVE IT. (See SUPERSTAR, GODDESS, DIVA.) 2. The girl you hate and fear. She has the power to make you into a slut or outcast, or make you crawl like a loser wannabe/stalker/groupie. There's at least one of her in every school, and she's never going away, so you better figure out your place in her world, before she figures it out for you. (See BACKSTABBER, WITCH, DEMON.) 3. The girl that completely believes she's better than you -- or maybe just acts like she does. She's got all the power, but would be defenseless if left by her herd. (See PATHETIC, INSECURE, MANIPULATIVE.)
Here, in words and pictures, are the thoughts,
the secrets, the lives of It girls.
The stories are fiction, but the feelings are real.
You might think you know these girls. But look closer. You'll be surprised by what you find.
My Thoughts:
This book was just weird. It bounced in so many directions I was constantly "like what the hell?" I don't like how it seemed to try to come together but I just could not connect it! It should focus on one person or not connect all the different stories. Also the book is shaped more like a picture book so it looks weird. That's the whole reason I picked it up while shifting in the Teen Section at my library. I almost wish I wouldn't have.