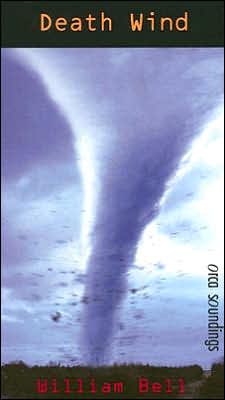 Death Wind
William Bell
Orca Soundings
$14.95
2006
FTC:
This is a library book. I am not being compensated in any way for my review.
Total grade: B
Total rating: 12+
Summary:
The woman's dress was ripped and her tears made white streaks in the dirt on her face. She stared into the mass of jumbled lumber. Allie could hear a baby wailing from somewhere in the mess. Allie's life has just taken a turn for the worse; not only do her parents fight all the time, but she is failing more classes than not and now she thinks she might be pregnant. Unable to face up to her parents she decides to run away. She hooks up with her old friend Razz, a professional skateboarder, and goes on the road. Razz is ranked number one but constant confrontations with the challenger Slash put Allie in some dangerous situations. With the rivalry heating up, Razz and Allie head toward home - right into the path of a fierce tornado. To survive in the horror and destruction that follow the storm, Allie has to call on an inner strength she didn't know she had.
My Thoughts:
I adore books about Natural Disasters, my problem with this however was it's length. By the time the tornado got raging it was already half over. Not a ton of storm details were included. I should have expected that though because of it's length.
Since the book was not super traumatic I find it to be a good "adventure" story for younger teens. I suggest it to all middle school educators and recommend it to reluctant readers as well.