***** I MET MOLLY RINGWALD!!!!!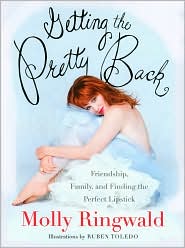 Getting the Pretty Back
Molly Ringwald
Harper Collins
$25.99
April 2010
FTC:
This is my book. I am not being compensated in any way for my review.
Total grade: A
Total rating: 16+
Summary:
In Getting the Pretty Back, Molly encourages every woman to become "the sexiest, funniest, smartest, best-dressed, and most confident woman that you can be." She shares personal anecdotes and entertaining insights about the struggle to get through the murky milestones and identity issues that crop up long after the prom ends. Whether she's discussing sex and beauty, personal style, travel and entertaining, motherhood, or friendship, Molly embodies the spirit of being fabulous at every age, and reminds us all that prettiness is a state of mind: it's "the part of you that knows what you really want, that takes risks."
Lavishly illustrated by Ruben Toledo, Getting the Pretty Back is sure to charm women of all ages with Molly's unforgettably personal, refreshingly outspoken take on life, love, and, of course, finding that perfect red lipstick. . . .
My Thoughts:
I adored this book. It was super cute and I admit I am a huge Molly fan. I wasn't alive when she came around so it was super fun reading her book and seeing just how she started. The stories were all entertaining and meshed well. The only thing I was confused on was the point of the book. At some times it felt like self help and a moment later it was like a memoir!
I think this is a great book for all women (young and old) to read. Molly can help you feel like things are going up if your 16 or about to turn 40. The best part of this book was that I got to meet her! I bought her book because she was at the WeHo Bookfair. Super exciting :). This is also a very fast read.