Please welcome as a new blogger (every now and then) on my blog, Lenae. She is my mom as well :).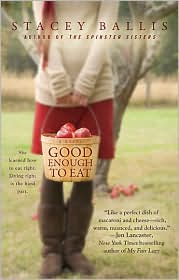 Good Enough To Eat
Stacey Ballis
Berkley Publishing Group
$14.00
September 7, 2010
Ftc:
This book was sent to my daughter by the publisher. We are not being compensated for this review.
Grade:
A
Age:
Aimed at Adults (Some language and content)
Summary:
The last thing Melanie expected to lose when she went on a diet was her husband.
Former lawyer Melanie Hoffman lost half her body weight and opened a gourmet take-out café specializing in healthy and delicious food. Then her husband left her-for a woman twice her size. Immediately afterwards, she's blindsided by a financial crisis. Melanie reaches out to a quirky roommate with a ton of baggage and becomes involved in a budding romance with a local documentary filmmaker.
Thoughts:
This was the first time I had read a book by this author and I was very pleased. This was a cute story and was a very fun read. This story actually gave me the desire to cook. I felt motivated and encouraged by this book which to me shows that it was well written. I now look forward to reading other things written by this author!