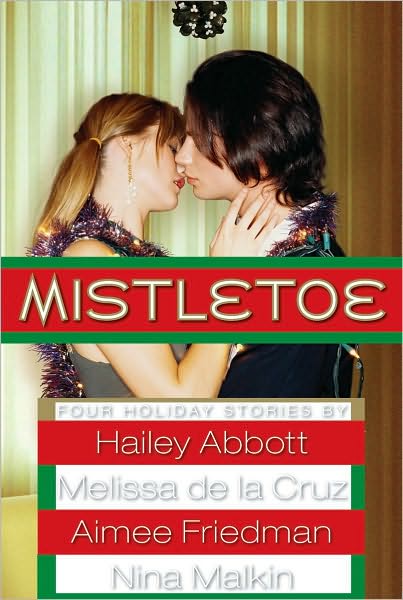 Mistletoe
Scholastic
$8.99
2006
FTC
: This is my book. I am not being compensated in any manner for my review.
Total grade: B as a whole
Total rating: 15+ Average
Summary:
Glittering white snowflakes. The handsome blond ski instructor. The sparkle on a cashmere skirt. Hot cocoa and kisses in front of a crackling fire. The holiday season is the ESSENCE of magic...and romance. Four of today's bestselling teen authors -- Melissa de la Cruz (THE AU PAIRS), Aimee Friedman (SOUTH BEACH), Hailey Abbott (SUMMER BOYS), and Nina Malkin (6X) -- bring us delectable tales of love and lust and holiday cheers (and tears) in this one-of-a-kind collection that teens will devour faster than a plate of Christmas cookies.
My Thoughts:
It was Christmas time so of course I needed a book full of Holiday cheer. This was enjoyable for the most part, although I didn't connect with one of the four stories. I was able to curl up and just read one short story at a time. I recommend this as a winter read.