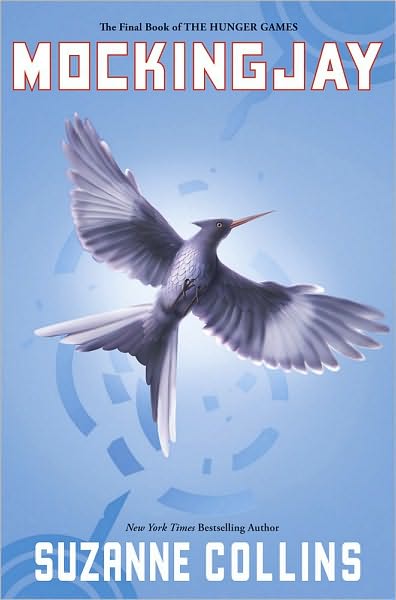 Mockingjay
Suzanne Collins
Scholastic
$17.99
August 2010
FTC:
This is my personal book. I am not being compensated for my review.
Characters 20/20
Plot 15/20
Setting 20/20
Cover 15/20
Ending 20/20
Total grade: 90% A
Sexual content: mild
Violence: heavy
Drugs: n/a
Underage drinking: n/a
Swearing: moderate
Total rating: 15+
Summary:
The Capitol is angry. The Capitol wants revenge.
Who do they think should pay for the unrest?
Katniss Everdeen.
My Thoughts:
I had to read this after reading the first two
Hunger Games
books. This was my least favorite of the three as it bounced around way too much. The first quarter of the book was very slow, taking too long to make the plot interesting. When it got good (about half way through) it got pretty good.
The characters were mostly the same characters I fell in love with. The setting remained superb. All in all it was a pretty good book. It was rather predictable though.
I want to take a moment to talk about the age appropriateness of this book. Due to how detailed and graphic it is I would not suggest it to my little sister. It is a good book but I think that when a person is still impressionable by this type of literature it is not to be recommended. For some people that could be 12 and others that could be 17. Just consider who you are recommending this too before you buy them a copy. Adults and older teens... GO FOR IT!