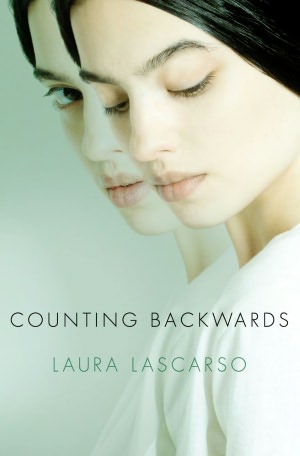 Counting Backwards
Laura Lascarso
Synopsis: 
Taylor Truwell is a sixteen-year-old girl from Florida with a troubled past, a neglectful mother, a seemingly callous father, and an urge to flee. When Taylor is caught with a stolen car, her violent reaction lands her in court for resisting arrest. Her father convinces the judge of an alternative to punishment: treatment in a juvenile psychiatric correctional facility. And so Taylor arrives at Sunny Meadows.
Sunny Meadows is anything but the easy way out, and Taylor has to fight hard just to hold on to her sanity as she battles her parents, an intrusive therapist, and a group of particularly nasty fellow patients. But even as Taylor clings to her stubborn former self, she gradually relents to new friendships—and to unexpected romance. Sunny Meadows goes against everything Taylor stands for. But could it be the place that saves her?
Interview:
1. Counting Backwards is the story of a troubled teen. What inspired you to write this story?
I was listening to the song Fast Car by Tracy Chapman, when I started thinking about what circumstances would drive a person to be so wholly focused on driving this fast car out right of their life. That gave me an inkling as to Taylor's background. As for her character, I wanted a protagonist who was flawed but sympathetic--someone who made bad decisions, but who the reader could get behind and understand why she was making those decisions. She may be troubled, but she's also pretty self-reliant. She's a survivor. And I think a lot of teens who are given the label of troubled are doing what they can to simply survive.
Ultimately, I hope Taylor's journey encourages people to have the courage to look inside themselves, to carve out some time for reflection and personal growth, and to dream.
2. Taylor is in a psychiatric correctional facility. Did you have to do any research to keep this accurate?
Tons. More than I probably would have wanted. I am not a research person, per se, but a book like this requires you to get it right, or as right as possible. I conducted several interviews with people who had worked in facilities such as Sunny Meadows, some with less security and some with more. I tried to be fair to both sides. Being forced to enter into an institution against your will really sucks, but in the bleakest situations, there are lessons to be learned and hopefully, friends to be made.
3. When you wrote Counting Backwards did you ever get connected to the point where you felt you were in the story?
Yes. Probably in my fifth draft, I reached a point where I hit my emotional stride and was able to completely immerse myself in the story. I didn't have to question so much what Taylor was thinking or feeling because I was experiencing it with her. For me, that usually comes when all the big stuff has been ironed out--plot, pacing, character motivations. That is actually my favorite part, once everything else is out of the way, being able to live fully in the story, it's like playing pretend.
4. Did you know how Taylor's story ended before you started writing or did she lead you there?
I had a very specific goal for Taylor, though I didn't know how we were going to get there or how many relationships would have to be destroyed and rebuilt. I also didn't know how much she'd have to lose. I went easy on her in the first couple drafts. Not so, in the final ones.
5. Counting Backwards has some intense parts. Did writing those parts ever change your mood for the day or do you keep your emotions out of it?
While writing, I definitely went there emotionally with Taylor, but later on, I mostly felt satisfied with myself. A good writing day is a good day; the deeper I can go with the character, the better. Those days are gifts. Writing brings me peace, which is probably why I enjoy it so much.
6. Is there a moral behind the story or do you simply want it to be great entertainment?
Both, I hope. I'm not terribly keen on books that are written just for the moral of the story, but I'm also not too keen on stories that are pure entertainment with no deeper meaning. I guess it's kind of like broccoli and cheese. Together, they are amazing, but broccoli for broccoli's sake, no thanks. And cheese is awesome too, but with broccoli you can feel good about eating a ton of it. Does that make sense? I don't mean to make fun of broccoli. It is one of those beaten down vegetables that really doesn't deserve its reputation. I can totally eat broccoli without cheese just fine. If I have to.
7. What does a typical day of writing look like for you?
There is no typical day for me, so I will paint you a portrait of a particularly productive day. Wake at ten to a cafe con leche (made for me by my beloved), put on my robe and sit on the couch with my laptop. Check emails until caffeine kicks in, re-read what I wrote the night before--hopefully, it's not bad. Tweak some things with that until I'm back in the story, and hopefully by one o' clock, I'm in the thick of it. Lunch is served to me around two (this is Jetson's reality). By now, my back probably hurts and my legs are cramped up because they've been tucked underneath me the whole time. Maybe let the dog outside or take her for a walk, then back to writing for as long as other commitments will allow.
But sometimes, my writing day doesn't begin until late at night--like right now--then I am up until the wee hours, which isn't so bad, because everyone else is asleep and there is something special about that time too. My writing tends to be a little more zany late at night, which can be incredibly creative, or it can make zero sense in the morning.
8. What is the best book you have read lately?
The Fault in Our Stars by John Green. That man can take me from LOLing to crying in about three words. He's really outdone himself this time.
9.
One author I have not met yet but would love to is
Sara Zarr
because
she rocks!
10. What is next for you?
I have no idea. I have a story that is pretty important to me. My agent is currently shopping it around to editors. It's edgy, or maybe just realistic. Hopefully, an editor will also think it's an important story and want to champion it, but if not, I'll just keep writing. I have a lot of stories swimming around in my head. I just have to find the one I can write with authenticity.
And I do take requests. Feel free to drop me an idea on the Contact page of my blog, http://www.lauralascarso.com/. But only if you don't mind sharing it. If it's super good, you might want to save it for yourself.
Contest:
One lucky person with a US address can win a copy of this book! To win all you have to do is comment below about why you want to read this book. 1 random name will be picked using a random generator.
Please leave your email address in the comment.