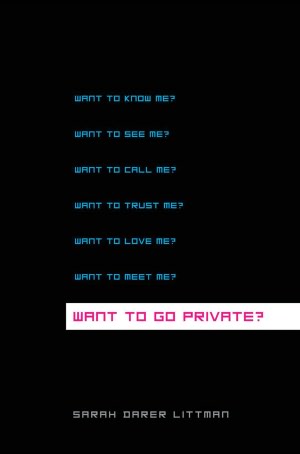 Title: Want to Go Private?
Author: Sarah Darer Littman
Publisher: Scholastic
Price: $17.99
Release: 8/1/2011
Source: Library
Grade: A
Audience: YA
Synopsis:
Abby and Luke chat online. They've never met. But they are going to. Soon.
Abby is starting high school--it should be exciting, so why doesn't she care? Everyone tells her to "make an effort," but why can't she just be herself? Abby quickly feels like she's losing a grip on her once-happy life. The only thing she cares about anymore is talking to Luke, a guy she met online, who understands. It feels dangerous and yet good to chat with Luke--he is her secret, and she's his. Then Luke asks her to meet him, and she does. But Luke isn't who he says he is. When Abby goes missing, everyone is left to put together the pieces. If they don't, they'll never see Abby again.
My thoughts:
It has been a long time since I have read a book that made me want to stay up late and finish. This book grabbed me and I became very frustrated that I had no time to read this week (it's my last 10 days in my college program). Even with this book taking me longer to read then I would have liked I found it to be AMAZING.
The subject of Internet predators is not one I have seen in books very often (if you have please give me recommendations in the comments). I have had the unfortunate experience of being the victim of an online predator. Fortunately for me, I got so scared early on that I told my parents. This story felt like an expansion of what could have happened to me, had I not told. Since this is becoming more and more common, I felt like this was an important story. It conveyed the reality of the situation without feeling like a lecture from someone paid to scare teens away from the Internet.
This book was split in thirds. Part one is all about Abby. We discover who she is, and it is at this point that you will develop an opinion about her. Some people have mentioned in reviews that they hated her. I saw her as the 14 year old victim that she was. When you move on to part 2 the story starts showing different peoples perspectives. This part of the story made me fearful and was what really kept me wanting to read this book. Part 3 contained an insight into the psychology of this crime. It was truly haunting.
I recommend this book to ALL teens. Yes, it was a fabulous book but it can also serve as a reminder. If you are a teen or you know a teen, do not hesitate to buy a copy. You won't want to miss this one.