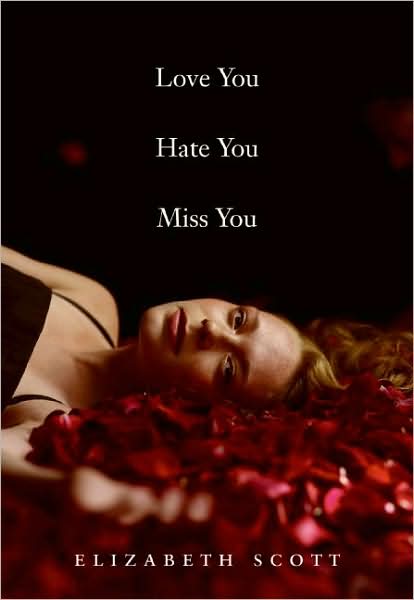 Love You Hate You Miss You
Elizabeth Scott
HarperTeen
$16.99
May 2009
FTC: This is a library book. I am not being compensated in any manner for my review.

Characters 15/20
Plot 15/20
Setting 20/20
Cover 20/20
Ending 20/20
Total grade: 90% A
Sexual content: heavy
Violence: none
Drugs: moderate
Underage drinking: heavy
Swearing: heavy
Total rating: 16+
Summary: Amazon
Tall, awkward Amy feels unloved by her parents, who are too smitten with each other to pay her any attention. Along with her beautiful, fearless, and free-spirited friend Julia, Amy turns to drinking and casual sex to feel loved. After a devastating car crash leaves Julia dead and Amy only slightly injured, Amy goes into rehab. There, a therapist gives her a journal, which Amy uses to write letters to Julia, each dated with the number of days after Julia's death. Amy recognizes the privileges of her upper-middle-class life, and both mocks and indulges her angst.
My Thoughts:
I expected so much from this book and it just didn't quite meet my expectations. Don't get me wrong. It was a great book. It just took way to long to drag me in. I had no desire to keep reading for the first third of the book.
The characters left much lacking, they weren't well rounded. Too many of the characters were very similar and dull. The plot just couldn't keep me for so long that it started to drag but once it picked up I adored it. I loved the way the book ended. All the strings were fully tied up.

I recommend this to most older teen girls.