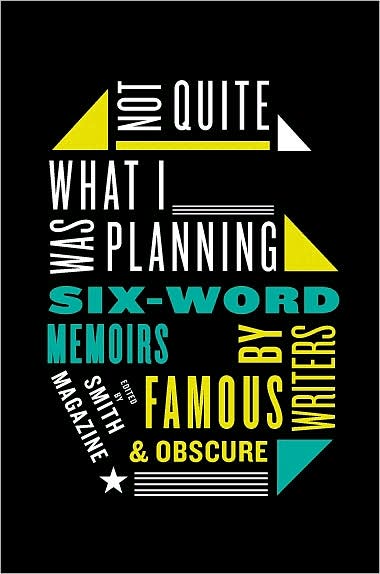 Not Quite What I Was Planning
Many
Smith Magazine
$16.95 (Hardback)
2008
FTC: This is a library book. I am not being compensated in any way for reviewing this book.

Total grade: A
Sexual content: mild
Violence: mild
Drugs: mild
Underage drinking: none
Swearing: heavy
Total rating: 13+
Summary: (Amazon)
Can you describe your life in six words? That's what the editors of storytelling magazine SMITH asked readers in 2006; the results, though decidedly uneven, make for compulsive reading and prove arguably as insightful as any 300+ page biography. Taken as a whole, this cascade of quotes from contributors famous and unknown creates a dizzying snowball effect of perspectives and feelings. Highlights from professional writers and artists include journalist Chuck Klosterman wondering, "Nobody cared, then they did. Why?"; pop singer-songwriter Adam Schlesinger lamenting, "We still don't hear a single"; and comic strip artist Keith Knight illustrating "I was a Michael Jackson impersonator." At their best, these nano-memoirs evoke the same kind of rich emotional responses as a good story: 9 year old Hannah Davies considers herself "Cursed with cancer. Blessed by friends"; Zak Nelson says "I still make coffee for two"; Scott Birch claims "Most successful accomplishments based on spite." Some entries read like bumper stickers (Rip Riley: "No wife. No kids. No problems"), and others are just plain weird (Amy Sedaris: "Mushrooms. Clowns. Wands. Five. Wig. Thatched"), but this compelling little book will have readers and their friends hunting for favorites and inventing six-word self-definitions of their own.
My Thoughts:
I had reviewed the teen version of this book a while back and LOVED it. It's a quick read and interesting seeing people describe their life in only six words. Many of these were thought provoking. There was some heavy language but it was people's life stories. They deserve to tell their story how they see fit.

I recommend this book to just about everyone!
My six-word memoir: Trying to please everyone doesn't work.