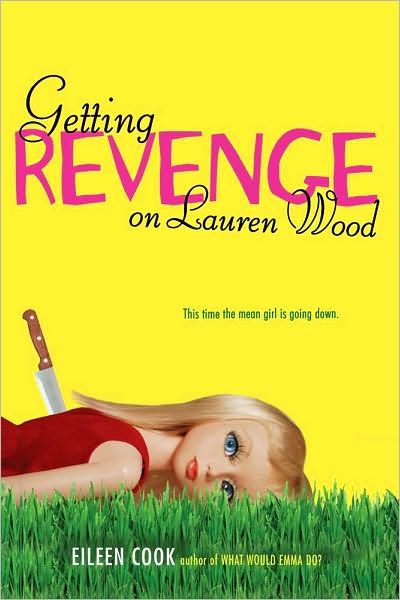 Getting Revenge on Lauren Wood
Eileen Cook
Simon Pulse
$15.99
January 2010
FTC:
I received this book from the publisher with the understanding that I would provide an honest review for no compensation.
Characters 20/20
Plot 15/20
Setting 15/20
Cover 20/20
Ending 15/20
Total grade: 85% B
Sexual content: mild
Violence: mild
Drugs: mild
Underage drinking: moderate
Swearing: moderate
Total rating: 14+
Summary: (Amazon)
Popularity is the best revenge.
In the final weeks of eighth grade, Lauren Wood made a choice. She betrayed her best friend, Helen, in a manner so publicly humiliating that Helen had to move to a new town just to save face. Ditching Helen was worth it, though, because Lauren started high school as one of the It Girls--and now, at the start of her senior year, she's the cheerleading captain, the quarterback's girlfriend, and the undisputed queen bee. Lauren has everything she's ever wanted, and she has forgotten all about her ex-best friend.
But Helen could never forget Lauren. After three years of obsessing, she's moving back to her old town. She has a new name and a new look, but she hasn't dropped her old grudges. She has a detailed plan to bring down her former BFF by taking away everything that's ever been important to Lauren—starting with her boyfriend.
Watch out, Lauren Wood. Things are about to get bitchy.
My Thoughts:
This book was good but not at all what I was expecting. I expected there to be a lot more mean girls and less sweetness but that's not how it was. The ending really bothered me. I read the last line and turned the page, ready to keep reading, only to find it was over. I think it needed a bit more.
The characters were fun and interesting. They each brought a different aspect to the story. The setting wasn't very vivid but it was still alright. If the plot had been a little tenser at some points I would have enjoyed this a bit more.
Fans of revenge and mean girls will flock to this.