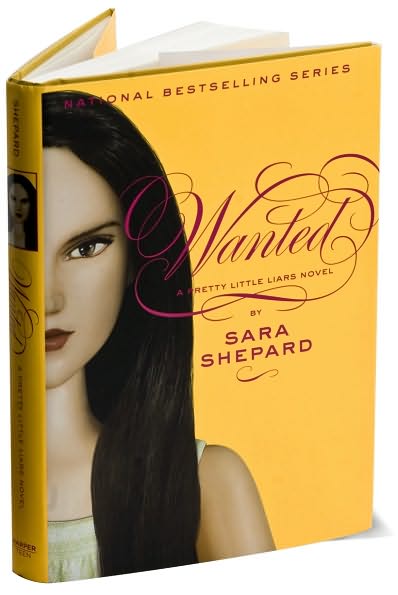 Wanted
Sara Shepard
Harper Teen
$16.99
June 8th 2010
FTC:
This is my friends' book. I am not being compensated in any manner for my review.
Characters 20/20
Plot 18/20
Setting 20/20
Cover 20/20
Ending 20/20
Total grade: 98% A
Sexual content: mild
Violence: heavy (Not beating up, that's all I'll say)
Drugs: None
Underage drinking: heavy
Swearing: moderate
Total rating: 16+
Summary:
In Rosewood, majestic estates sprawl for acres, and Tiffany toggle bracelets dangle from every girl's wrist. But not all that glitters is gold, and the town harbors secrets darker than anyone could imagine—like the truth about what really happened the night Alison DiLaurentis went missing. . . .
Back in middle school, Ali plucked Emily, Hanna, Aria, and Spencer from obscurity and turned them into the beautiful, popular girls everyone wanted to be. Ali was the best friend they ever had. But she also made them do terrible things and taunted them with their worst secrets. Now, three years later, all their questions about Ali have finally been answered and they can put this awful chapter of their lives behind them. Or so they think.
Not every story has a happy ending, especially when four pretty little liars have done so many wicked things. In the dramatic conclusion of Sara Shepard's bestselling Pretty Little Liars series, Emily, Hanna, Aria, and Spencer could get everything they've ever wanted—unless A has one more horrifying twist in store.
My Thoughts:
This book was seriously twisted. What else would you expect from this series though? There were a couple parts that made my stomach turn. The first quarter of the book was a bit slow but as you progressed it picked up. A certain character seems very off but I wasn't able to piece together why on my own. In this book you will find out who A is, who killed Ali, and a couple big shockers are in store. I was a bit confused by the end though. At the end of every book there is that letter from "A", well this one has one but it kind of contradicts what the story leads you to believe. Oh well, just don't read it until you get there or your whole story is ruined!
I recommend this series to older teens. Also I encourage people to check out the TV show on ABC Family. If you like Sara be waiting, she has a new series coming and I am excited!