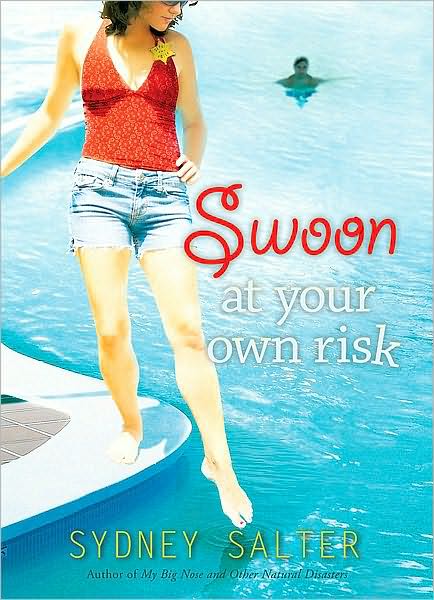 Swoon at Your Own Risk
Sydney Salter
Graphia
$8.99
April 2010
FTC: I received this from the publisher with the understanding that I would provide an honest review for no compensation.

Characters 10/20
Plot 10 /20
Setting 15/20
Cover 20/20
Ending 15/20
Total grade: 70% C
Total rating: 13+
Summary: (Barnes and Noble)
You'd think Polly Martin would have all the answers when it comes to love—after all, her grandmother is the famous syndicated advice columnist Miss Swoon. But after a junior year full of dating disasters, Polly has sworn off boys. This summer, she's going to focus on herself for once. So Polly is happy when she finds out Grandma is moving in—think of all the great advice she'll get.
But Miss Swoon turns out to be a man-crazy sexagenarian! How can Polly stop herself from falling for Xander Cooper, the suddenly-hot skateboarder who keeps showing up while she's working at Wild Waves water park, when Grandma is picking up guys at the bookstore and flirting with the dishwasher repairman?
No advice column can prepare Polly for what happens when she goes on a group camping trip with three too many ex-boyfriends and the tempting Xander. Polly is forced to face her feelings and figure out if she can be in love—and still be herself.
My Thoughts:
There was something about this book that just took way too long. I felt that she spent too much time setting up the plot she was going for and not enough time completing the actual story. If she had begun moving things along even 20 pages earlier I would have bumped the score to at least a 15/20.

I would recommend this to fans of My Big Nose and Other Natural Disasters because the writing is very similar. There were enjoyable aspects, I just think the beginning is what ruined the book for me!