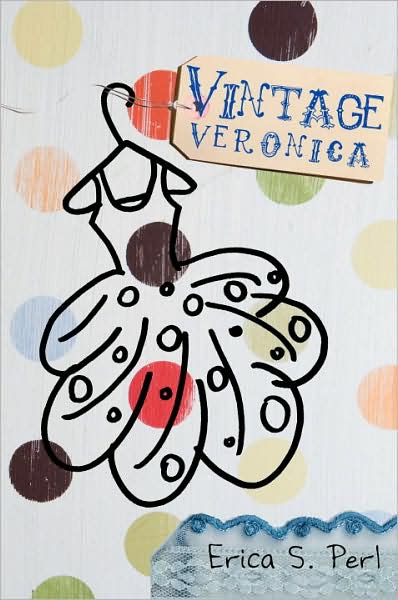 Vintage Veronica
Erica S. Perl
Knoph
$16.99
March 2010
FTC:
I received this from the publisher with the understanding that I would provide an honest review for no compensation.
Characters 15/20
Plot 15/20
Setting 20/20
Cover 20/20
Ending 15/20
Total grade: 85% B
Total rating: 14+
Summary: (Amazon)
Almost 16, Veronica has lied about her age to get a job at the largest used-clothing store in the Northeast ("The Original Dollar-a-Pound!"). Veronica separates the wheat from the chaff, marking the true vintage for the "Real Deal" floor. Despite her weight, Veronica has an eye for fashion, which manifests itself in crinolines and bowling shirts (together) and sketching. She catches the eye of several of her coworkers, including mean girls Zoe and Ginger and a thin, twitchy guy she thinks of as the Nail. In her first novel, Perl masterfully sets her scene. The store, with its giant chute dumping clothes into "the pile" for the customers (aka "the pickers"), is almost a character in itself.
My Thoughts:
When I received this book in the mail I was pumped. The idea seemed fresh and a New York thrift shop just sounded fun. Throughout the story though I felt something lacking. It took me too long to build a relationship with Veronica and even after I did it was weak. The story was good but it lacked a certain spark I need from books. I would still recommend this to lots of people though because all in all it was fun, quirky, and somewhat inspiring.