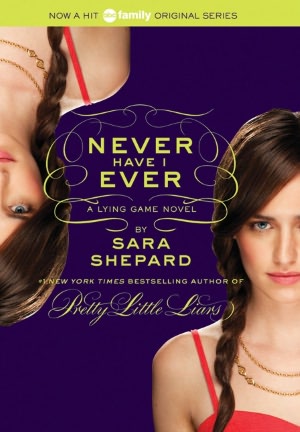 Never Have I Ever
Sara Shepard
HarperCollins
$9.99
8/2/2011
Teen audiences
4 stars



Synopsis:
My perfect life was a lie.

Now I'd do anything to uncover the truth. Not long ago, I had everything a girl could wish for: amazing friends, an adorable boyfriend, a loving family. But none of them know that I'm gone—that I'm dead—and that my long-lost twin sister, Emma, has taken my place to solve my murder.

But the deeper she digs, the more suspects she uncovers. It turns out my friends and I played a lot of games—games that ruined people's lives. Anyone could want revenge . . . anyone could want me—and now Emma—dead.

My thoughts:
When I start a series I have to finish it unless I absolutely despise it. I did not love the first Lying Games book but I decided to give it another go. This book was a little better but still not amazing. The plot reminded me of Pretty Little Liars from time to time. That was not a surprise.

Emma is a pretty connectable character. I think she was a great asset to the book. Some of the other characters were a bit far-fetched. It didn't take away too much though because it was not told in their voices.

The flow of this book is easy. If you wanted to sit and read it all it would only take you a couple hours. It is smooth and pretty light. Because of that it would make a great series for reluctant readers or those in a reading slump.