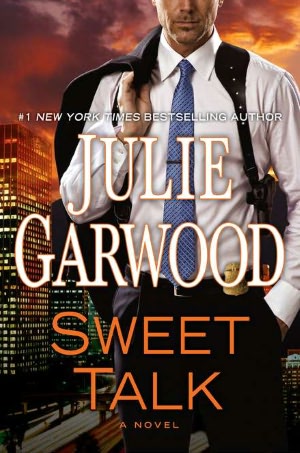 Title: Sweet Talk
Author: Julie Garwood
Publisher: Penguin
Price: $26.95
Release: 8/7/2012
Source: Publisher
Grade: B
Audience: Adults
Synopsis:
When FBI agent Grayson Kincaid first encounters Olivia MacKenzie, she makes quite an impression.
The beautiful, tough, young attorney has stumbled into the middle of an FBI sting operation and has reduced it to chaos. Months of surveillance and careful planning down the drain, Kincaid's partner is furious and lets Olivia know that she's ticked off the wrong guy. After all, he's FBI.
Olivia isn't intimidated by his partner's bullying because she's something even scarier . . . she's IRS.
And working for the IRS isn't for the faint of heart. She's on the trail of an elaborate Ponzi scheme, one that threatens to ruin the lives of naive and unsuspecting victims, and one she has personal reasons to be angry about. But after she asks questions of the wrong people, her life is suddenly endangered. She's accustomed to fighting for the underdog but being vulnerable herself is a very different story. Smart enough to know when to call for reinforcements, she contacts Grayson Kincaid.
Together they make an excellent team to fight corruption but Olivia is also fighting the immediate and intense attraction she feels for Agent Kincaid, and that may be a battle she is bound to lose.
My thoughts:
This was not a book I would usually go pick up on my own. When I recieved the request I decided to give it a try. Though it took me awhile to feel involved with the book, I did eventually experience that. The story picked up a deccent pace about half of the way through it.
The characters were pretty likeable but not as easily connectable as some. I would have enjoyed this book a little more if I had felt a deeper connection to the characters. I did like Olivia a lot more later on.
I recommend you try this book now if the synopsis really grabs you. If you are iffy on it, I recommend a library copy.