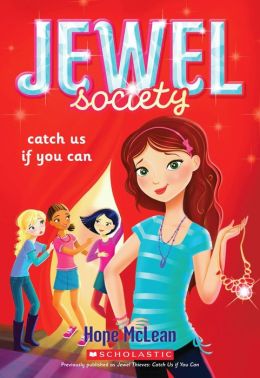 Catch Us If You Can
Hope McLean
Scholastic
6/1/2013
From:
publisher
For:
older kids
grade:
B
Synopsis:
For Jasmine, Erin, Willow, and Lili, the first year of middle school is shaping up to be pretty awesome. They've been selected for an A-list academic team because of their expertise in art, math, science, and history. The Jewels, as they call themselves, are already winning tournaments. But things heat up when another local team, the Atkinson Prep Rivals, threatens to steal their spotlight.
To further complicate matters, a beloved ruby necklace is stolen from their school, and the Jewels must go undercover with their skills to track down the culprit. Nothing seems to be adding up--until they look to the most unlikely of suspects . . .
My thoughts:
I have recently got a bunch of children's and mid-grade books to review. It has been a nice break from the crazy, drama of adult and young adult books, though I am ready to go back to those now. This was a pretty cute mid-grade novel.
This one was not my favorite of all the ones I have read recently but it was adorable. The girls are fun and their friendship is really inspiring for middle school girls. The drama is at a minimum, which is incredibly hard to find in a lot of books these days.
The story was pretty predictable but it was clean-cut fun. I recommend this to girls 7-13.