Must Monday is a feature I started years ago when I started reviewing. I spotlight one book that is not yet out and that I am dying to read. Here is this weeks choice: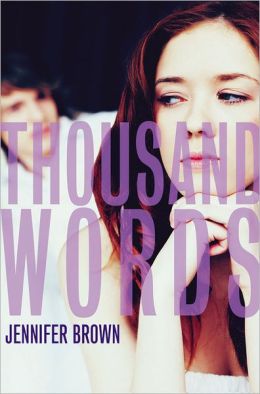 Thousand Words
Jennifer Brown
Little, Brown
5/21/2012
Synopsis:
Ashleigh's boyfriend, Kaleb, is about to leave for college, and Ashleigh is worried that he'll forget about her while he's away. So at a legendary end-of-summer pool party, Ashleigh's friends suggest she text him a picture of herself — sans swimsuit — to take with him. Before she can talk herself out of it, Ashleigh strides off to the bathroom, snaps a photo in the full-length mirror, and hits "send."
But when Kaleb and Ashleigh go through a bad breakup, Kaleb takes revenge by forwarding the text to his baseball team. Soon the photo has gone viral, attracting the attention of the school board, the local police, and the media. As her friends and family try to distance themselves from the scandal, Ashleigh feels completely alone — until she meets Mack while serving her court-ordered community service. Not only does Mack offer a fresh chance at friendship, but he's the one person in town who received the text of Ashleigh's photo — and didn't look.
Why I want to read it:
Sexting is a really big deal for high school kids these days. I had a best friend get mixed up in years ago, when picture messaging was still a new thing, as was teens having cell phones. Back before they even had laws defining that it was illegal. I have not read a book about it, so this sounds really good. I'm hoping for some real honesty.