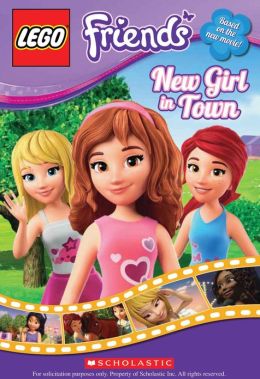 New Girl in Town
Marilyn Easton
Scholastic
1/1/2013
From:
the publisher
Grade:
A
For:
children
Synopsis:
Olivia is new in town, and she can't wait to make new friends. So she volunteers to help out at the pet adoption booth at the Heartlake City World Petacular.
But when one of the puppies escapes, it destroys all the hard work that Andrea, Emma, Mia, and Stephanie have put into the Petacular! So much for making friends . . . in just a few minutes, Olivia's made four brand-new enemies.
There's only one way to repair the damage - teamwork! Can Olivia, Andrea, Emma, Mia, and Stephanie work together to put things right in time for the Petacular?
My thoughts:
I will admit that I love a children's book from time to time. I like to blame it on the fact that I am married and have baby on the brain but in reality I think a part of me likes going back to such an easy time! This book was able to do just that.
The girls in this book seem like teenagers but it is written the level for kids just starting to read chapter books. I'm sure I would have loved this book at that point in my life. The girls seem so "cool" and "grown-up". If you are not against your daughter fantasizing about being older than this would be a fabulous book to purchase for her. As crazy as it gets is a girl blushing over a boy...
The story was adorable and very upbeat. Even when there were struggles the girls kept a positive outlook. I think the is pretty important when it comes to books our children are reading.
I would recommend this for girls 5-10 and all elementary school librarians.