This review is for adults only. If you are under 18 please skip this post...
Thanks!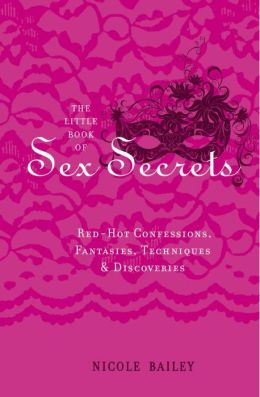 The Little Book of Sex Secrets
Nicole Bailey
Baird
2/5/13
From:
Publisher
Grade:
B
For:
ADULTS ONLY
What it's about:
Whether as a naughty read at bedtime, a quick peek for excitement while you're traveling, or an ecstatic experience to savor with your lover, this hot little book will leave you inspired. Nicole Bailey, renowned for her guides to sizzling sex play, shares sensational sexploits, no-holds-barred erotic fantasies, and mind-blowing, eye-opening tips. From the art of seduction and super-sensual massage to Tantric techniques, stunning stripteases, and the wicked world of power games, The Little Book of Sex Secrets has it all—with plenty of revealing photos, too!
My thoughts:
I am happily married, coming up on our first anniversary. I do not usually review books like this but it sounded fun and our anniversary trip is approaching (1 week from tomorrow) so I went for it. I am happy that I did.
This book featured snippets from real people on what they enjoy. I found that to be my favorite part. It was like getting the inside scoop from your best friend. A lot of the things people shared were outside the box. It was fun to see what other couples do to keep the spark alive.
There were some fun ideas provided by the author. Most of them are pretty common, like what you find in an issue of Cosmo. There were some adventurous ones though, such as making your own sex tape.
This book had lots of pictures. They were very sexual but I thought they were tastefully done. If they would offend you then this book is not for you.
I recommend this to my
ADULT
readers who want to add some spark.