Wednesday Wishlist is a feature I started years ago when I began reviewing. I spotlight a book that has been out for awhile that I am dying to read and review. If you have had the privilege of reviewing the book I spotlight please leave a link to your review. I would love to see what you thought...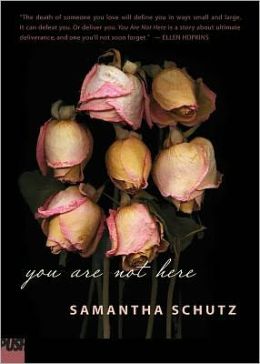 You Are Not Here
Samantha Schutz
Scholastic
10/1/2010
Synopsis:
Annaleah and Brian shared something special - Annaleah is sure of it. When they were together, they didn't need anyone else. It didn't matter that their relationship was secret. All that mattered was what they had with each other.
And then, out of nowhere, Brian dies. And while everyone else has their role in the grieving process, Annaleah finds herself living outside of it, unacknowledged and lonely.

How can you recover from a loss that no one will let you have?
Why I want to review it:
This book sounds heartbreaking and honest. Just reading the synopsis makes me want to shed a few tears.