Must Monday is a feature I started years ago where I spotlight a book that is not yet out and I am dying to read and review it. Here is this weeks choice: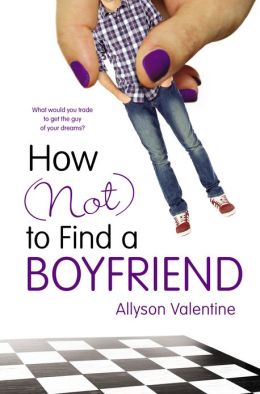 How (Not) To Find a Boyfriend
Allyson Valentine
Penguin
6/13/2013
Synopsis:
Sophomore Nora Fulbright is the most talented and popular new cheerleader on the Riverbend High cheer squad. Never mind that she used to be queen of the nerds—a chess prodigy who answered every question first, aced every test and repelled friends at every turn—because this year, Nora is determined to fully transition from social pupa to full blown butterfly, even if it means dumbing down her entire schedule. But when funny, sweet and very cute Adam moves to town and steals Nora's heart with his untra-smarts and illegally cute dimple, Nora has a problem. How can she prove to him that she's not a complete airhead? Nora devises a seemingly simple plan to barter her way into Adam's classes that involves her classmates, friends—and her older brother Phil's award-winning AP history paper. But soon, Nora can barely keep track of her trades, and struggles to stay in control of her image.
In the end, the only thing that can save Nora is a chess tournament—that she has to compete in wearing her cheerleading uniform. Can she prove to everyone that she can be both a butterfly and a nerd?
Why I want to review it:
This sounds incredibly easy to relate to. Though I was never the "pretty cheerleader" I did spend some time trying not to be "the smart girl". Didn't exactly work out, and I still ended up graduating top of my class but it was fun! I can't wait to see if Nora knows the secret to living in both worlds!