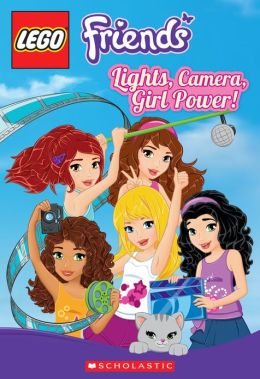 Lights, Camera, Girl Power!
Cathy Hapka
Scholastic
3/1/2013
From:
publisher
For:
older kids
Grade:
B
Synopsis:
Best friends Mia, Olivia, Emma, Andrea, and Stephanie can't want to enter the contest to be a guest on their favorite TV show,"Girl Power"! In order to win, each girl must capture the "heart" of their hometown, Heartlake City. May the best girl win!
My thoughts:
This was my second
Lego Friends
book this week! Though this one was not quite as cute as the first, I still found it to be a great choice.
It is written at a pretty basic reading level. It is perfect for kids who are just starting out on chapter books. There are pictures throughout all the chapters which adds to the ease of reading it.
The girls in this book are great role models. They are older than most girls who would be reading this book so that is very important. Though there is a competition going on between the girls they are still willing to help each other because that's what friends do! A perfect reminder in this day and age.
I recommend this to girls 5-10 years old and elementary school librarians.