Weekly mail call will not happen this week!
A review is taking it's place.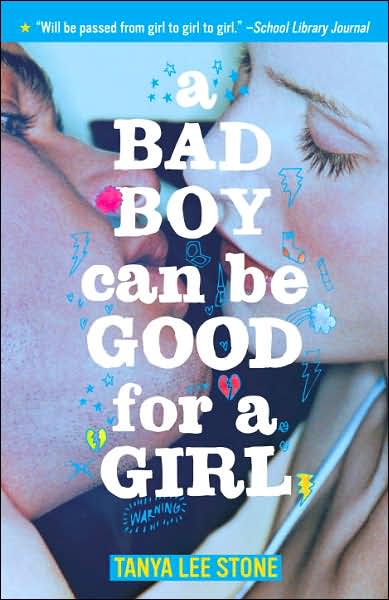 A Bad Boy Can Be Good For a Girl
Tanya Lee Stone
Grade:
A+ or 5 Kisses
Rating:
Tv-14 for extreme sexual content
Summary:
(From Amazon.com) Three girls succumb to the charms of one sexy high school senior and emerge wiser for the experience in this energetic novel in verse. Josie is a self-assured freshman who values her girlfriends over boys until a hot jock focuses his attention on her and her simmering hormones break into a full boil. Confused by her behavior, yet unable to control her desire, she acts out every romantic cliché she has ever disdained, until the boy drops her and she experiences the chill of rejection. It is Judy Blume's Forever that sparks Josie's fire again, and finding a few blank pages at the back of the library's copy, she sends a warning to the girls of her school. Next readers meet Nicolette, a junior who sees her sexuality as power. A loner, she's caught by surprise at her own reaction when this popular boy takes notice of her. Suddenly she thinks she sees the difference between sex and love, and then, just as suddenly, he's gone. Finally, Aviva, a pretty, smart, artsy, and funny senior, is stunned when the jock seems to want her. She gives up her virginity, only to be disappointed in both the sex and the boy. Furious, Aviva heads to the library to check out Forever, now crammed with the words of girls who suffered the same fate at the hands of the same boy.
Thoughts:
This was one of those books. You know the kind you just can't put down no matter what. I read this book so quickly, it's funny. I loved how Forever was included in the story line as that is one of my favorite books of all times. The three characters were so different yet they all had something in common that was major. I couldn't believe how great this book was. When I first got it in the mail I figured it to be so-so. I was so wrong, as this is one of the most intriguing stories I have read in such a long time.
Recommendation:
I would recommend this book to High School girls, as well as their mom's. It captures the emotions of the popular guy romance so deeply that you can feel as if you are the main character.
Release:
This novel has already been released. Go buy a copy, NOW!
Up Next:
Killing Brittney, Khy has been so kind as to let me borrow it!