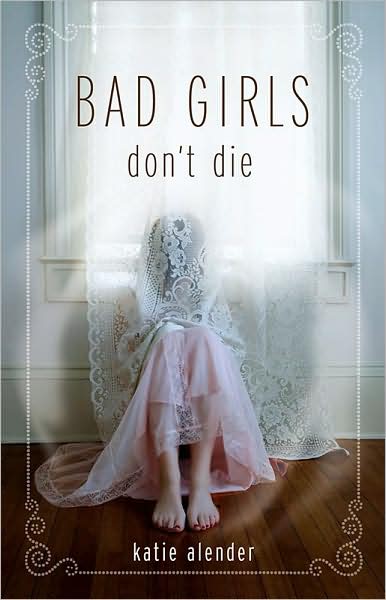 Title: Bad Girls Don't Die
Author: Katie Alender
Publisher: Disney-Hyperion
Price: $15.99 USD HB
Release: April 2009

Grade: B
Rating: 14+

Summary: (Amazon.com)
High-school junior Alexis seems to be the class bad girl, complete with snide remarks, rebellious attitude, and listless motivation. At home, her overachieving mom has alienated her more laid-back dad, while her doll­-obsessed, 13-year-old sister, Kasey, periodically morphs from a blue-eyed, ordinary girl to a green-eyed, evil child plotting against others in their small town. What has possessed Kasey and their family's beautiful Victorian home? Alender's first novel is both a mystery and a trip into the paranormal, in which a child taunted years ago returns to exact revenge for her violent death. It falls to Alexis to sort out the historical details and protect not just herself and her family, but also the descendants of the girls implicated in the original tragic death.

My thoughts:
Anyone who knows me knows that I am a scaredy cat. I'm the type of girl who ends up on her boyfriends lap even during a PG-13 "scary" movie. I love scary after the fact but during I am paralyzed with fear. Bad Girls Don't Die worked for me! There was just the right amount of fear and tension. The fact that I don't believe in a paranormal universe, nor do I live in an old house might have made it a tad less scary.
I won't lie and say there was never a part that scared me. Last night I had to stop reading because it was dark, I was alone, and freaked out. Keep in mind that just because this book scared me doesn't mean it will scare you. Come on, I screamed when the cat walked by in When a Stranger Calls.
As for the plot, it was fantastic. It seemed really unique to me but I will admit I am new to reading scary, paranormal books. I enjoyed the creepy aspect combined with the love story. It was not the typical girl falls for vampire/werewolf/ghost type of romance.
I recommend this book to us girls who can't handle the intense horror/fantasy books.