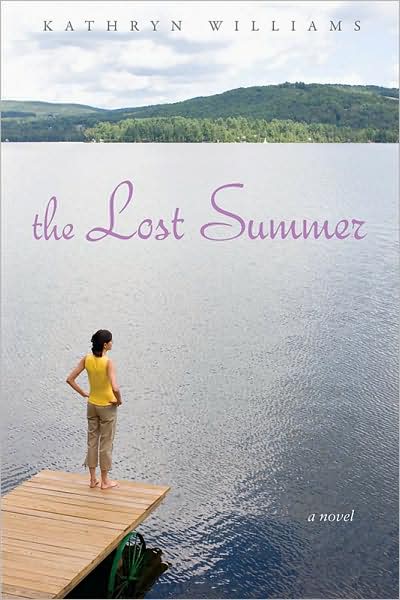 Title: The Lost Summer
Author: Kathryn Williams
Publisher: Disney-Hyperion
Price: $15.99 USD HB
Release: 2009

Grade: A
Rating: 15+

Summary: Amazon.com

"I died one summer, or I almost did. Part of me did. I don't say that to be dramatic, only because it's true."

For the past nine years, Helena Waite has been returning to summer camp at Southpoint. Every year the camp and its familiar routines, landmarks, and people have welcomed her back like a long-lost family member. But this year she is returning not as a camper, but as a counselor, while her best friend, Katie Bell remains behind. All too quickly, Helena discovers that the innocent world of campfires, singalongs, and field days have been pushed aside for late night pranks on the boys' camp, skinny dipping in the lake, and stolen kisses in the hayloft. As she struggles to define herself in this new world, Helena begins to lose sight of what made camp special and the friendships that have sustained her for so many years. And when Ransome, her longtime crush, becomes a romantic reality, life gets even more confusing.

Cover: 5/5
The cover is beautiful and draws you in with only one glance. The vast water in front of you is very intriguing and makes you want to relax with the novel. The fact that the girl is on a dock looking out tells you she is deep in though. A possible flashback is hinted at.

Title: 5/5
The title in itself is intriguing. It makes you feel like there is bound to be an important story to read. You want to know what was lost and why. That is almost a necessity upon reading the title.

Characters: 5/5
I loved how all the characters were so very different. It's important to have a vast variety if you want everyone to connect to the book. We had every type of girl imaginable in this story. There were also many male minor characters that were still well developed.

Plot: 5/5
I have noticed that not a ton of great books use camp as a main plot aspect. This was one of the few that I have found. That in itself is unique. The aspects of a physical relationship at camp and huge separation between counselors and campers were also new/nice.

Setting: 5/5
The fact that camp was the setting was fantastic. As mentioned before it is rather new to YA literature that people actually want to read. I applaud the author for how well she was able to describe the setting with out making her readers feel put down.

Ending: 5/5
The ending to this novel was flat out amazing. I never expected it and loved how unique it was. It wasn't the happily ever after love crap lots of books like to shove down our throats.