Here is what's on my wishlist this week and why.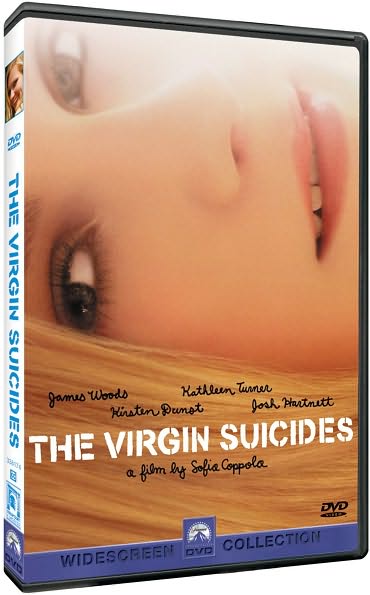 Virgin Suicides
Director: Sofia Coppola Cast: James Woods, Kathleen Turner, Kirsten Dunst, Josh Hartnett
Teen angst in the '70s takes on tragic proportions in this haunting adaptation of the Jeffrey Eugenides novel. Sophomore director Sofia Coppola, the daughter of
Francis Ford Coppola
(The Godfather, The Conversation), breaks out in her own right with this tale of five beautiful blonde teenage sisters (
Kirsten Dunst
,
Hanna Hall
, Chelsea Swain,
A. J. Cook
, and
Leslie Hayman
), who mesmerize the adolescent male population of their suburban Michigan neighborhood before ending their own lives. Dunst, playing the most charismatic of the sisters, is superb as a rebellious yet vulnerable dream girl, but the film also features fine (and surprising) performances from
James Woods
as the girls' nerdy science teacher father;
Kathleen Turner
as their frumpy, repressed mother; and
Josh Hartnett
as a high school stud whose fling with Dunst has dire consequences. What makes The Virgin Suicides truly memorable, though, is the atmosphere of dreamy nostalgia and melancholy that suffuses every frame. The boys' uncomprehending idealization of the sisters is expressed in slow-motion, soft-focus fantasy sequences of the golden-haired girls running through sun-dappled fields -- distorted images of femininity derived from '70s shampoo commercials. The score's deft use of period arena-pop by acts like Heart and Styx enhances to the '70s scenario. At once lyrical and creepy, The Virgin Suicides is a modern fairy tale that casts a lingering spell.
Why I want this:
I saw this recently on amazon and read the plot line. It sound amazing guys!!! It's so unique and the actors are fantastic. Any of you seen this? Should I buy it?