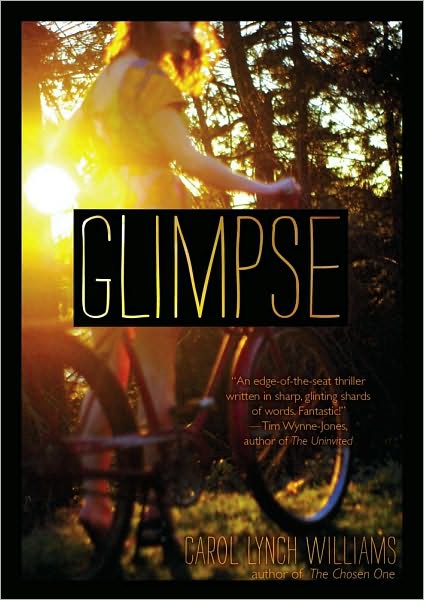 Glimpse
Carol Lynch Williams
Simon and Schuster
$16.99
June 2010
FTC:
I received this book from the publisher with the understanding that I would provide a review for no compensation.
Characters 15/20
Plot 15/20
Setting 20/20
Cover 20/20
Ending 15/20
Total grade: 85% B
Sexual content: moderate
Violence: moderate
Drugs: mild
Underage drinking: n/a
Swearing: mild
Total rating: 14+
Summary:
Sisters Hope and Lizzie are also best friends; Lizzie, the elder sibling, has looked after Hope since she was an infant. When Lizzie suddenly becomes suicidal, though, Hope is bewildered, but she gradually realizes that she may have some insight into the roots of Lizzie's depression. Glimpses into her memories and her dreams unfold a story of neglect and abuse that will haunt both Hope and the reader alike.
My Thoughts:
This book was not as good as I expected to be honest. Usually I devour books written in verse as well as ones where a character suffers the trauma Lizzie does. I will not tell you what she faces but I will tell you it is flat out disgusting and may very well piss a few readers off. I don't want to say I enjoyed that part of the book because that just sounds wrong. I will say that is what made me read it in the first place and what kept me reading.
The plot was gappy and predictable at times. I had figured out Lizzie's problem long before Hope did. I know that the issues facing Lizzie were gruesome but they should have been addressed a bit more. I also feel that there should have been more focus on the suicide attempts, not just brief mentions.
The ending was okay but not really happy. It leaves you fearing for the girls again. This time it is for their emotional development. The situation they are left in seems bad but at least it is only a "temporary" kind of thing.
I recommend this to fans of abuse books. Readers looking for a passionate story of the bond between sisters will enjoy this!
Playlist:
1. Candle "Sick and Tired" (White Tie Affair)
2. Fearless (Colbie Caillat)
3. Where'd You Go (Fort Minor)
4. Dance in the Dark (Lady Gaga)
5. Secret (The Pierces)