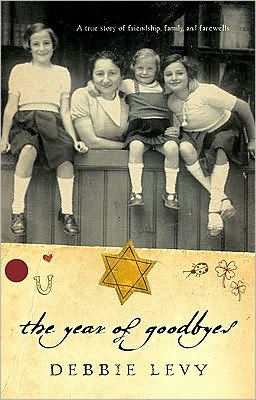 The Year of Goodbyes
Debbie Levy
Hyperion
$16.99
March 16th, 2010
FTC:
I received this from the publisher with the understanding that I would provide an honest review for no compensation.
Characters 20/20
Plot 10/20
Setting 20/20
Cover 20/20
Ending 20/20
Total grade: 90% A
Sexual content: none
Violence: moderate (it is a holocaust book!)
Drugs: none
Underage drinking: none
Swearing: none
Total rating: 12+
Summary:
Inspired by her mother's poesiealbum (poetry album), which survived her childhood retreat from Nazi Germany, Levy has created a verse novel slim in length but long on beauty, power, and anguish. Jutta Salzberg lived a normal, happy life until 1938. Although Hitler's reign is in its infancy, Jewish Germans already face severe restrictions in their lives; segregated schools, shops, and curfews are already the norm, with stories of the public humiliation of elderly Jews and concentration camps to follow. This book is comprised of actual entries in the poesiealbum penned by Jutta's friends, interspersed with verses in 12-year-old Jutta's voice that respond to and even challenge the sentiments conveyed within each poem.
My Thoughts:
The aspect of this book that really disappointed me was the length. Since it was written in verse I really would have hoped for a lot more filling. It was more about her relationships with her friends than the holocaust. I think that for a book to accurately portray that time period it needs to focus on that aspect some.
I especially appreciated the end where the author mentioned all those in the book and what became of their life. There she mentioned some who were murdered at the hands of the Nazi's yet they were only mentioned briefly during the book. If there had been more to the story it could have been an awesome book!
Playlist:
1. Carry You Home (James Blunt)
2. Feels Like Home (Edwina Hayes)
3. You Found Me (The Fray)
4. Airplanes (B.o.B)
5. Little Wonders (Rob Thomas)
Wow I had like no music that reminded me of that book on my ipod, so please hang in there with me.