"Marcia, Marcia, Marcia."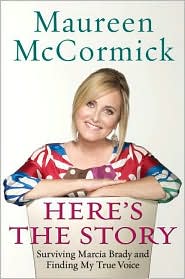 Title: Here's the Story
author: Maureen McCormick
age: 14+
rating: 4.5 of 5 stars
From the book:
Marcia Brady, eldest daughter on televisions The Brady Bunch, had it all-style, looks, boys, brains and talent. No wonder her younger sister Jan was jealous. For countless adolecents across America who came of age in the early 1970's, Marcia was the ideal American teenager. Girls wanted to be her. Boys wanted to date her. But what viewers didnt know about the always-sunny , perfect Marcia was the offscreen, her real-life counterpart, Maureen McCormick, the young actress who portrayed her, was living a very different-and-not-so-wonderful-life. Now for the very first time, Maureen the shocking and inspirational true story of the beloved teen generations have invited into their living rooms and the woman she became.
My thoughts:
My mom grew up watching The Brady Bunch. In her highly religious family it made the cut onto approved tv shows. Then when I came into the picture I got sick a lot. During a bad night of non-stop coughing I was introduced to The Brady Bunch. I wanted to be just like Marcia, as pretty as her. I was flipping through the channels and heard this was coming out. I just had to read it! I love how real and open Maureen was. She doesnt mask her problems or pretend she's someone she's not. We should strive to be like her. A definite must read for inspiration.
overall grade:
overall rating: