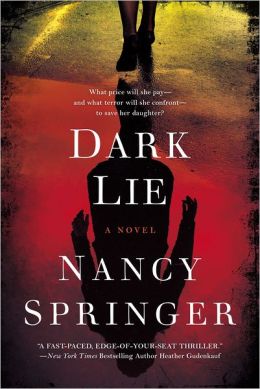 Dark Lie
Nancy Springer
Penguin
11/6/2012
From:
the publisher
Grade:
B
Audience:
Adult
Synopsis:
To their neighbors, Dorrie and Sam Whiteare a contented couple in America's heartland, with steady jobs, a suburban home, and plenty of community activities to keep them busy. But they're not quite what they seem. For plain, hard-working Sam hides a depth of devotion for his wife that no one would suspect. And Dorrie is living a lie—beset by physical ailments, alone within herself...and secretly following the comings and goings of the sixteen-year-old daughter, Juliet, she gave up for adoption when she was hardly more than a child herself.
Then one day at the mall, Dorrie watches horror-stricken as Juliet is abducted, forced into a van that drives away. Instinctively, Dorrie sends her own car speeding after it—an act of reckless courage that puts her on a collision course with a depraved killer...and draws Sam into a dogged, desperate search to save his wife. As mother and daughter unite in a terrifying struggle to survive, to what extremes will Dorrie go in overcoming her own limitations...and in confronting her dark, tormented past?
My thoughts:
From the second I received this book in the mail I was sure I was going to love it. It sounds so mysterious and intense. I had been craving a great book that would suck me in. This was a good book but it did not suck me in the way I was hoping for.
The story starts very quickly. You would expect that to make it fabulous from the start. Sadly, I was half way through the book when I reached a point where I did not want to stop reading. There was drama and intensity before that point but it was surrounded by so much filler. I wanted to get down to the nitty-gritty, not just bounce all around.
Dorrie was a likeable character. She suffers from a major illness which makes the reader want to like her despite her stalker tendencies. You could forgive her for some of her craziness because you knew she was struggling. The thing about her I couldn't stand was how she wouldn't stand up to her parents. I wanted to scream, "you are a grown lady! Tell them to shut the hell up!." No disrespect towards parents, I love mine. My parents would not treat me like I was a useless piece of lint though....
Despite all the small problems I had with the book, it was an okay one. I recommend my adult readers who like a small dose of mystery pick up a copy. It will be worth your time.