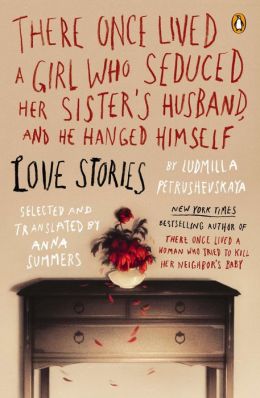 There Once Lived a Girl Who Seduced Her Sister's Husband and He Hanged Himself
Ludmilla Petrushevskaya
Translated by
: Anna Summers
Penguin
1/29/13
From:
The publisher
Grade:
B
Audience:
Adult
Synopsis:
Love stories, with a twist: the eagerly awaited follow-up to the great Russian writer's New York Times bestselling scary fairy tales
By turns sly and sweet, burlesque and heartbreaking, these realist fables of women looking for love are the stories that Ludmilla Petrushevskaya—who has been compared to Chekhov, Tolstoy, Beckett, Poe, Angela Carter, and even Stephen King—is best known for in Russia.
Here are attempts at human connection, both depraved and sublime, by people across the life span: one-night stands in communal apartments, poignantly awkward couplings, office trysts, schoolgirl crushes, elopements, tentative courtships, and rampant infidelity, shot through with lurid violence, romantic illusion, and surprising tenderness. With the satirical eye of Cindy Sherman, Petrushevskaya blends macabre spectacle with transformative moments of grace and shows just why she is Russia's preeminent contemporary fiction writer.
My thoughts:
When I was first contacted about reviewing this book I wavered for a few minutes. I usually enjoy short stories but I was unsure of ones that had originated in another language. I have recently read (and chosen not to review) a book that was translated very poorly. I believe that is what made me weary. I am glad I decided to review this one.
The majority of the stories are fun, easy reads. I am a very fast reader and was still surprised by how quickly I finished this book. They were written and translated incredibly well. Each story seemed to flow right into the next one. Sometimes with short stories I need a minute between because the next story is so absurdly different. Though these stories were different the authors voice shone through enough to keep the flow.
My favorite story in the collection it the first one. I suggest that if you are weary of this book even after I have mentioned my life for it, that you at least read the first story. If that doesn't interest you at least you gave it a shot. This book it truly worth your time.
Love has its highs and lows as we are all too aware. Within these stories you will experience every up and down the characters do. The emotions are real and raw. You will finish some stories with a sense of "aw" and others want to curse someone. This fantastic use of emotion indicates pure talent.
Go get your copy now.