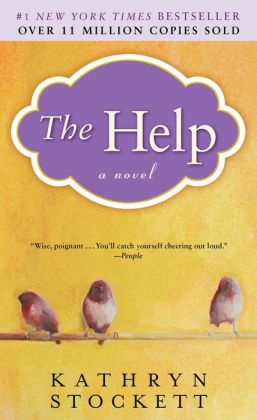 The Help
Kathryn Stockett
Penguin
2/10/2009
From:
borrowed
For:
adults
Grade:
A
Synopsis:
Aibileen is a black maid in 1962 Jackson, Mississippi, who's always taken orders quietly, but lately she's unable to hold her bitterness back. Her friend Minny has never held her tongue but now must somehow keep secrets about her employer that leave her speechless. White socialite Skeeter just graduated college. She's full of ambition, but without a husband, she's considered a failure. Together, these seemingly different women join together to write a tell-all book about work as a black maid in the South, that could forever alter their destinies and the life of a small town...
My thoughts:
I know I am way behind on reading this. Back when it came out I was receiving more ARC's than I knew what to do with and I was having a hard time balancing the books I wanted to read with the books I had to read. I watched my neighbors son on a regular basis and every time I would go over there she would tell me I had to read this book. I wish I would have listened to her.
All three main characters are incredibly different but still so connectable. I really like Minny because she speaks her mind. That woman doesn't let fear stop her from saying anything that pops into her head. That made her incredibly entertaining and my favorite character. The woman she cares for is my favorite secondary character. She too does and says what she wants.
The story starts out a little slow, especially if you have seen the movie. Things don't happen right away or even in the same order. At first I was annoyed by all the explaining that goes on but as I continued I really enjoyed it. There is a particular scene in the movie that has always intrigued me. I am not going to say what it was, just that it always made me wonder what lead up to it. The book takes the time to dig deeper into this. I was thrilled.
I recommend this to all my female adult readers and older teens. This book does contain language that can be considered offensive and there are a few violent parts (not incredibly descriptive). You have been warned. Now go buy your copy!