Wednesday Wishlist is a feature I started years ago when I began reviewing. I spotlight a book that has been out for some time that I want to review. If you have reviewed the book I spotlight feel free to leave the link. I would love to read what you thought!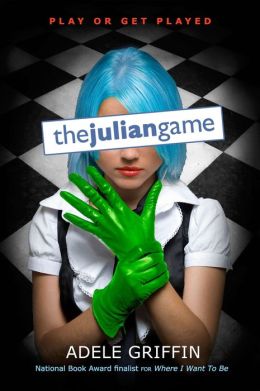 The Julian Game
Adele Griffin
Penguin
9/15/2011
Synopsis:
All new girl Raye Archer wants is a way into the in crowd, so when ice-queen Ella Parker picks her to get back at her ex, the gorgeous Julian Kilgarry, Raye is more than game. Even if it means creating a fake Facebook identity so she can learn enough about Julian to sabotage him. It's a fun and dangerous thrill at first, but Raye hadn't counted on falling for Julian herself-and igniting Ella's rage.
As Raye works to reconcile the temptress Elizabeth with her real-life self, Ella serves up her own revenge, creating an online smear campaign of nasty rumors and trashy photographs. Suddenly notorious, Raye has to find a way out of the web of deceit that she's helped to build, and back to the relationships that matter.
Why I want to review The Julian Game:
Fake website pages/profiles are all the rage right now. We see it on the news and on shows like Catfish. I am interested in reading a book about it. I have not found any others about the same topic. Anyone know any good ones?