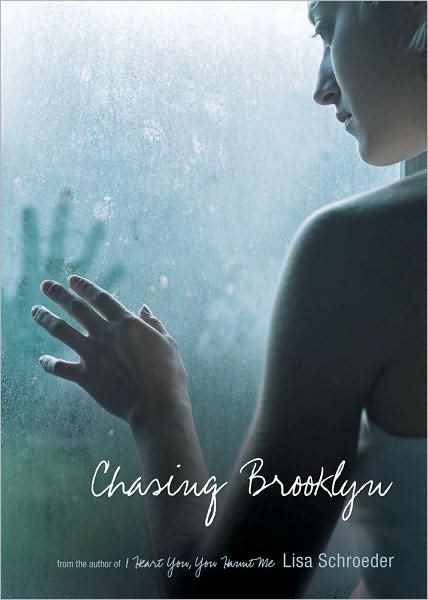 Chasing Brooklyn
Lisa Schroeder
Simon Pulse
$15.99
January 5th 2010
FTC: This is my friends' book. I borrowed it from her and did not receive it from the publisher.

Characters 20/20
Plot 20/20
Setting 20/20
Cover 20/20
Ending 18/20
Total grade: 98% A

Sexual content: 5/20
Violence: 0/20
Drugs: 0/20
Underage drinking: 0/20
Swearing: 0/20
Total rating: 13+ (death is not an easy topic and the book is a tad creepy)


Summary: (Amazon)
Restless souls and empty hearts
Brooklyn can't sleep. Her boyfriend, Lucca, died only a year ago, and now her friend Gabe has just died of an overdose. Every time she closes her eyes, Gabe's ghost is there waiting for her. She has no idea what he wants or why it isn't Lucca visiting her dreams.
Nico can't stop. He's always running, trying to escape the pain of losing his brother, Lucca. But when Lucca's ghost begins leaving messages, telling Nico to help Brooklyn, emotions come crashing to the surface.
As the nightmares escalate and the messages become relentless, Nico reaches out to Brooklyn. But neither of them can admit that they're being haunted. Until they learn to let each other in, not one soul will be able to rest.

My Thoughts:
Anyone who knows me and those of you who have read my blog for a while know I get creeped out easy with paranormal stuff. I however LOVED Chasing Brooklyn. They split parts of the characters were awesome. I loved seeing the same thing through different sets of eyes.

Nico is adorable and the kind of boy we all want. He had the hidden feelings most guys have but he occasionally let them shine through. I found myself enthralled in his gripping tale. There was something about him, a charm that made me fall for his character.

Brooklyn was a gentle person. She was timid and afraid of getting hurt. I felt a strong connection to her. I wanted her to succeed, to be happy. I felt like she was my friend and I'd do anything to protect her.

I recommend this book to everyone, BOYS and GIRLS! The story was unforgettable.

Quotes:
Here is a random quote I found by opening to a random page:

My words,
my heart,
my soul,
shredded by someone
who seems intent
on hurting me