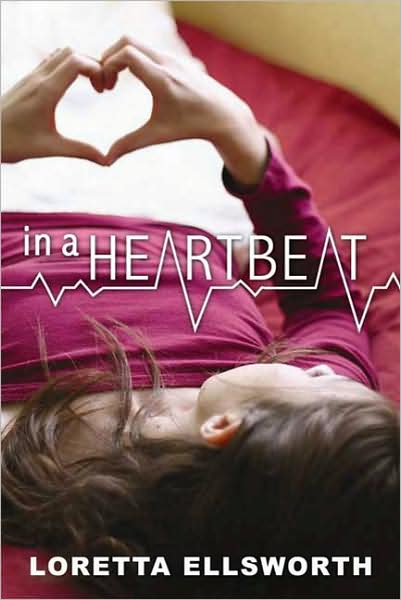 In a Heartbeat
Loretta Ellsworth
Walker
$15.99
February 2010
FTC: I received this from the author with the understanding that I would provide an honest review for no compensation.

Characters 20/20
Plot 20/20
Setting 18/20
Cover 20/20
Ending 20/20
Total grade: 98% A

Total rating: 13+


Summary: (Goodreads)
When a small mistake costs sixteen-year-old Eagan her life during a figure-skating competition, she leaves many things unreconciled, including her troubled relationship with her mother. From her vantage point in the afterlife, Eagan reflects back on her memories, and what she could have done differently, through her still-beating heart. When fourteen-year-old Amelia learns she will be getting a heart transplant, her fear and guilt battle with her joy at this new chance at life. And afterwards when she starts to feel different — dreaming about figure skating, craving grape candy —her need to learn about her donor leads her to discover and explore Eagan's life,meeting her grieving loved ones and trying to bring the closure they all need to move on. Told in alternating viewpoints, In a Heartbeat tells the emotional and compelling story of two girls sharing one heart.

My Thoughts:
This book was not what I expected, it was awesome though! Each character had a distinct voice that made you feel like you were living in their body. I was able to see everything through the characters eyes. I loved the flow between chapters and how the voice changed in a huge way.

The way the story was told was beautiful. Each piece was fit perfectly to the next piece. This made it even easier to enjoy.

I recommend this book to those who can handle the sad books.

Quotes:
Here is a random quote I found by opening to a random page:

I just got my drivers license. But I hit my head on a board.